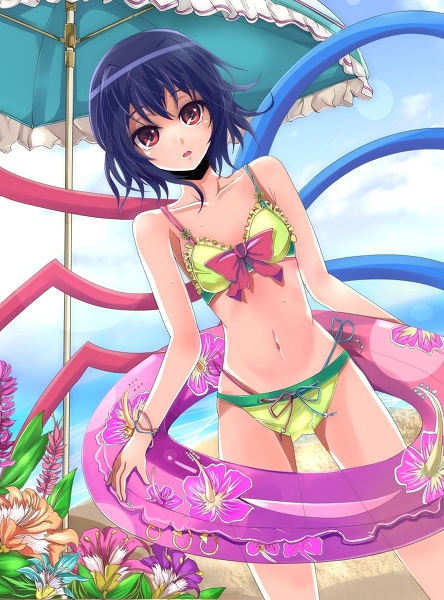 Name: Nue Houjuu
Ability: To hide true form
Species: Nue
Race:Alien
Occupation: Scaring others, of course.
Location: The Temple of Myouren
Little bio thing:
Hello there, I'm Nue Houjuu. I have lived in Gensokyo for.. a very short time. I don't know much about the place and usually have to follow people to places. I'm one of the many followers of the great Byakuren Hiijiri, though the only other follower I know is Murasa. But I'm sure I'll meet the others eventually.
People say I'm an alien, and I suppose I am.. But for me, you guys are the aliens. But I guess I'm more... alien-like as I'll never reveal my true form. I myself don't want to see that form.
Another thing, I've heard many stories about this Flandre girl and how we are similar.. Maybe I should meet this girl myself? I'm sure she has many tales herself, and I'd love to hear one. This place seems to big and grand to me, I just need time to explore it...
BOO!
Heh! Heh heh heh! You weren't expecting that, huh?! Huh?!
...
You were? Well, I tried, right? You were slightly scared, come on, don't lie. If that didn't explain things, I, like my friend Kogasa, like to scare people. It's just so fun! Be careful, because I could appear anywhere, at anytime, and scare you. Watch! Now you see me -Nue turns into a form of energy- Now you don't! Hehehe!~ -she reappears grinning proudly- Not many people can do that! Hmm.. I guess I am an alien afterall... I'll have to get used to that one.
Love interests: None at the moment
Rivals: None
Relationship: Single
Admin




Posts

: 136


Join date

: 2011-07-09


Age

: 22



( ' w ' )/O would you like a cookie?
Gensokyo Explorer




Posts

: 26


Join date

: 2011-07-11


Location

: Eientei



The Str⑨ngest




Posts

: 17


Join date

: 2011-07-13


Location

: Gensokyo



Mistress Byakuren!! -turns into Chibi Nue and hops into her arms-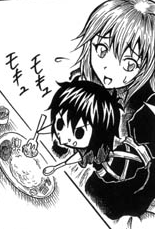 _________________
I invade siggies!
Admin




Posts

: 136


Join date

: 2011-07-09


Age

: 22



"Ufufufu, Nue-chan!"
Byakuren snuggled the chibi Nue.
The Str⑨ngest




Posts

: 17


Join date

: 2011-07-13


Location

: Gensokyo





Similar topics
---
Permissions in this forum:
You
cannot
reply to topics in this forum